At the end of June, TRU's very own Denny Jones visited Ireland on an once in a life time FAM Trip hosted by Maeve O'Conner and Irish Horizons. This fabulous one-week tour took him across the southern portion of the country, from Dublin to Killarney and then on to the Western shores, where you can get spectacular views along the Wild Atlantic Way. Continue reading to see what he discovered during his tour of the Emerald Isle...

IRISH LOVE
When 65% of Ireland's tourism comes from the USA, it's easy to see why the Irish like Americans and go out of their way to make us feel welcome. During my stay, this was never more evident…in DUBLIN & KILLARNEY, preparations were underway for 4th of July Celebrations! I would say, the Irish definitely go above and beyond to prove their love to American visitors!

THE CASTLES – PROOF YOU'RE NOT IN KANSAS ANYMORE
The Irish castles are spectacular, whether you are on a site seeing tour, staying at one or attending an event. My experience took me to St. Patrick's Hall in Dublin Castle, a venue for Gala Evenings and Luttrellstown Castle, a perfect fit for private events. We also visited Adare County Limerick, where the original 5-star Adare Manor Hotel is undergoing a major renovation and expansion. When it reopens in the fall, it will have a refreshed spa and will have added a pool, cinema and golf course. It will also add an entire new wing, making Adare twice its original size! Next, was a tour of 15th Century Bunratty Castle, the most complete and authentic medieval castle in Ireland and Folk Park, a village that immerses all your senses in 19th Century life. Both places, located in Shannon are perfect for group outings and private events. Last, but certainly not least, we explored the 5 -Star Dromoland Castle Hotel. This sprawling 400-acre property has something for everyone; including a spa and golf course. Below are some pictures of its interior and surrounding grounds.
I found that each of these beautiful castles featured their own unique architecture and style. It was a pleasure to see them all and discover which would be best suited for the different needs of our clients!

GOLF ANYONE
If you're a golfer, plan on teeing up wherever you go! Ireland is well known for its pristine golf courses and each one provides a game all its own. I experienced play at Killeen Castle in Killarney, home of the Irish Open. This renovated estate is all about golf and ranks #1 in the area. Designed by Jack Nicklaus, it's a 350-acre course perfect for players of all levels. Adare and Dromoland Castles also have beautiful golf courses on property and I experienced some breathtaking ocean views at the TRUMP Doonbeg Resort that features amazing Links along the Wild Atlantic coastline.
Don't worry, if you're not into swinging clubs, there is a host of other activities you can experience all over the country, including: Horse Riding, Falconry, Fishing, Archery, Clay Pigeon Shooting, Shopping, Site Seeing, Pub Hopping, Museum tours, Hiking...I could keep going, but you get the idea!
DON'T MISS THESE VIEWS
These two places are must-see attractions you don't want to miss, as they offer UNIQUE and SPECTACULAR views of Ireland NOT seen anywhere else.
THE GAP OF DUNLOE - The Adventure Capital of Ireland
Located in County Kerry, you don't want to miss the trek between the mountains. You can hike, bike, boat or experience the sites by Pony & Trap, but leave navigating these narrow and winding roads by car to the locals, you'll enjoy the trip so much more. No matter your mode of transportation, if you like the outdoors you won't be disappointed with this 6.8 mile adventure. While you're in the area, stop in Moriarty's to shop for authentic Irish goods and get something to eat. After all that exercise, you'll deserve it!
THE CLIFFS OF MOHER - Ireland at its most natural, rugged, panoramic and breathtaking
If you enjoy spectacular ocean views and rugged natural beauty, don't miss The Cliffs, situated at the heart of the Wild Atlantic Way in Clare County. Stretching 5 miles long and up to 702 feet high, this natural wonder is the most visited in Ireland, and provides a look at Ireland at it's most beautiful and raw. If you dare, stand at the cliffs edge and gaze out upon the blue waters, crashing wildly below. It is then you'll discover this is everything you imagined Ireland to be, and so much more!
PEOPLE, PUBS AND TRADITIONS
When making your way through Ireland, don't forget that this destination isn't just about the sights, it's also about those who call this land home. One of the best ways to experience the Irish culture is by slipping into a pub. Pubs are not just a drinking place; it's where you celebrate life, death, wins and losses. It's where families come to listen to local music and others come to share stories and even recite original poems. I especially enjoyed my time at THE LAURELS in Killarney. This bar gives you a real taste of Ireland and features local brews such as GUINNESS and KILLARNEY BLONDE. Owned by the same family for almost a century, it's the kind of place where you'll want to linger and not just because of the live music and Irish dancing, but because it's cozy and friendly. In Dublin, visit the iconic Temple Bar, the Brazen Head (the oldest pub in town) or O'Donoghues for the traditional music. There are so many choices, you really should to pop into a few, you know, for research…
No matter what bar stool you end up on, remember these TRUly important things: 1. If you order GUINNESS, be patient...it takes EXACTLY 119.5 seconds to pour the perfect pint - but it's worth it, I promise! 2. If a local buys a round, it is expected that you buy the next one. 3. Pubs, especially in the countryside, are for families. Don't complain if there are children running around. 4. Tipping isn't usually necessary, unless you have table service. 5. Don't be afraid to strike up a conversation with a local, the barkeep or the mate next to you at the bar. It's the best way to learn about the areas history and traditions. It's also a great way to discover places of interest from an insiders point of view, not to mention, you might just make a new friend!
WHERE TO STAY - A PICTURE GALLERY
During our time in Ireland, we had an opportunity to stay at 3 different 5 star properties. THANK YOU InterContinental, Dublin - Hotel Europe, Killarney and Trump Doonbeg for allowing us to enjoy your rooms and explore your grounds!
We also were fortunate to be able to tour many other hotels that were breathtaking in their own right. Below are some pictures of these lovely properties.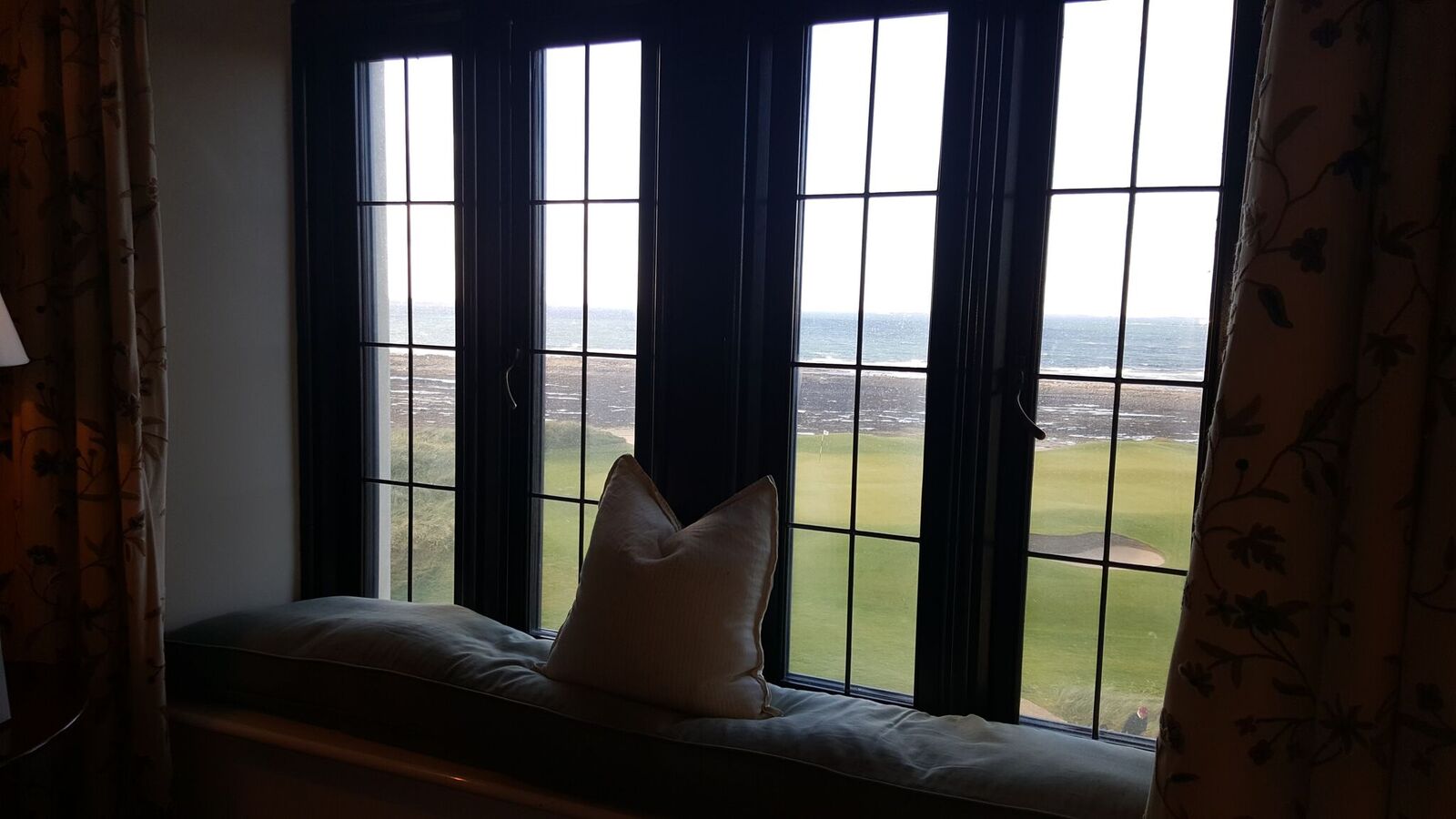 Thank you to Irish Horizons, Meet in Ireland and all those who made this trip TRUly amazing. Until we meet again...

If UNIQUE IS WHAT YOU SEEK, contact TRU Incentives about a TRULY GREAT experience in IRELAND!
Something Extra:
Below are pictures taken on another trip to Ireland in the Fall of 2015, by TRU staffer, Tracy. Enjoy!