Oceania: collective name for the islands scattered throughout most of the Pacific
TRU's very own Jody Jones, went to Australia to see what the Down Under has to offer incentive groups and individual travelers. What she experienced was a trip she'll TRUly never forget and will absolutely recommend to all our TRU friends and clients!
From the views (and comfort) of her Shangri-la and Sheraton hotel rooms to ascending 1332 stairs on the Sydney Bridgeclimb to flying high over the Great Barrier Reef...it was never a dull moment!
A BIG THANK YOU to Virgin Airlines, Shangri-La Hotels and Resorts, Sheraton Mirage Port Douglas and Australia Conferences and Incentives for this wonderful opportunity to get ON TOP OF what's DOWN UNDER!
Wildlife Habitat - Port Douglas
Wildlife Habitat is the #1 attraction in Port Douglas. The animals are well looked after and it's a great opportunity to interact with Australia's animals. Jody found this Koala very sweet!
Shangri-La, Sydney
Shangri-La, Sydney in the historic Rocks District overlooking Sydney Harbour
Shangri-La, Sydney
Best view in the city - Located on the hilltop of the Rocks District
Sydney Bridge and Harbour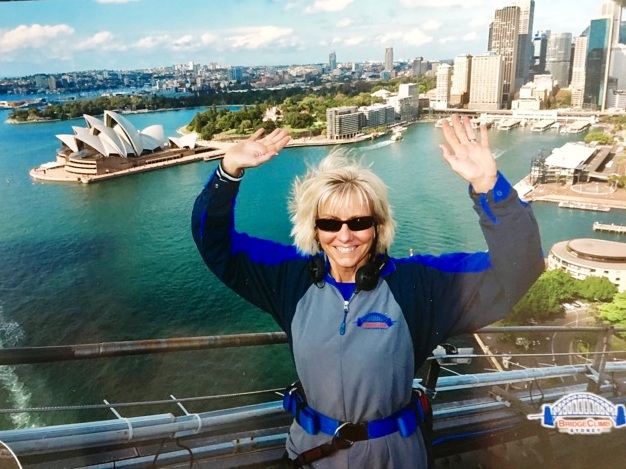 Hero of Waterloo Pub
One of the many "Oldest" pubs in Sydney
The Reef Marina Port Douglas
Quicksilver - Great Barrier Reef Activity Platform
Quicksilver is a company that does it all! Cruises, snorkeling, diving, submarine tours and even lunch! This thought forward company even provides "stinger suits" for swimming during jelly fish season! Jody saw a large clam and a sea turtle during her time on the Reef!
Sheraton Mirage Port Douglas
Sheraton Mirage Port Douglas
Beach at Sheraton Mirage Port Douglas
Beach at Sheraton Mirage Port Douglas
REEF MARINA PORT DOUGLAS
Photo taken from the patio of Hemmingway's Brewery. It's the ONLY restaurant with a view overlooking this quaint and picturesque Marina.
Moss Man Gorge near Port Douglas
A "must do" for every visitor to Mossman Gorge are the Ngadiku Dreamtime Walks, conducted by the local Indigenous people. Ngadiku (Nar-di-gul) means stories and legends from a long time ago in local Kuku Yalanji language. The walks take visitors on a journey along private, gentle tracks, visiting special places and culturally significant sites, past traditional bark shelters and over meandering cool rainforest streams.
Flames of the Forest
The only dining experience in Mossman Gorge. "Lavish, spectacular dinner and Aboriginal cultural experience that takes you away to a dreamy place you never want to leave! Excellent food also!!!"
Chiswick at the Gallery
Lunch at Chiswick at the Art Gallery of New South Wales, founded in 1871. This beautiful venue, uses only farm fresh foods and award winning wines and is know for their lamb dishes and stunning views!
GBR Helicopter Tour
This reef tour is really the best way to see the Great Barrier Reef and coastline!